Have you booked your flight and are you planning to drive to Regina Airport (YQR) in the Canadian province of Saskatchewan? Of course you want your car to be parked safely during your trip, but you also want your holiday budget to be easy on when parking. We will provide you with an overview of all parking spaces at Regina Airport. This overview then shows all the parking options that are available to you during your trip. Regina Airport has 3 outdoor parking lots, which are available to passengers every day: short-term parking lot in front of the terminal, long-term parking lot located behind the short-term parking lot and the overflow parking area, which is open during peak periods in the winter charter season. In addition, one must mention the cell phone parking lot, which allows you to park for free while waiting to pick up arriving passengers. Here information about car park option number 2.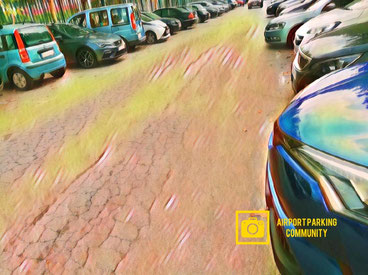 ---
---
Features of short term lot at YQR:

---
Commercial contact details for up-to-date information, parking prices, inquiries, reservations, address of the parking lot and how to get in touch:


A:

1-5201 Regina Ave. Regina, Saskatchewan, Canada S4W 1B3
---
Direct link to the car park operator here:
---
The short-term parking lot is located directly in front of the terminal building. The distance to the terminal entrance is about 30 to 100 meters depending on where you parked your car. It is designated for brief stays, pick-ups and drop-offs.
110 outdoor parking stalls are available here. The short-tarm parking lot is well-lit, paved, and gated. There is no maximum entrance height. This car park is most suitable for short stays up to a maximum of 2 hours. Airport visitors, meeters and greeters park here. If you need to pick up or drop someone off quickly, or want to load or unload your bags, you can drive right up to the terminal entrance. Short stays of up to 3 minutes are permitted there. You will also find parking spaces for taxis directly in front of the terminal. If you get there early and are waiting for your friends or family, we recommend you to use the cell phone lot. It is located on the right as you enter the airport on the Regina Ave. Cell phone lot has 28 stalls, is not fenced and not lit. After your friends arrived and let you know they have their bags and you can pick them up at the curb. Current parking prices for the short-term parking lot can be found on the YQR airport's website.
Outward flight: You will drive your vehicle to the short-term parking lot at Regina Airport (YQR). Please follow the signs to short-term parking lot (Courte duree). Upon entering the short-term parking lot, push the button for a parking ticket. Pull out the ticket and the gate will rise.
Return flight: Upon your return at YQR Airport, go to express pay stations located inside the airport terminal building. The machine that accepts cash is located in the Arrivals area. Change machine and ATM available inside the terminal. After you have paid, you can use your ticket to exit the parking lot. You can also pay at the parking lot exit with your credit card or debit card. Place the validated ticket in the slot and the gate arm will open.
---
---
What is good about short term parking at YQR?

illuminated
paved
signposted
gated
open 24 hours
regularly police patrols
patrolled by security staff
spontaneous parking possible
handicap parking spaces
no key handover necessary
no maximum entrance height
parking bays are marked
30 - 100 meters to the terminal
no shuttle transfer necessary
coffee machines in the terminal
changing room in the terminal
family room in the terminal
free WIFI in the terminal
express pay stations
carry luggage
cell phone lot
What is bad about short term parking at YQR?

not covered
daily parking is expensive
not under video surveillance
not fenced
handicap parking stalls subject to regular parking fees
---
Who else offers Regina airport parking?

---