Gibraltar International Airport is located right on the border between Spain and Gibraltar and is best reached on foot whether you live in Gibraltar or on Spanish territory. The best option for all passengers living on the Spanish side is to leave the car in a car park in the neighboring Spanish town of La Linea de la Concepcion and take a walk to Gibraltar. Travelers staying on the Gibraltar side should walk or drive to the airport terminal via the runway and be picked up at the end of the trip. Driving your own vehicle to Gibraltar Airport is not worthwhile because there are no long-term parking spaces near the terminal and parking is only possible for a maximum stay of 3 hours. There are only 2 short-term parking spaces in front of the airport terminal building. These are Parking Zone A and Parking Zone B. In this article we would like to tell you about the Zone B car park and the options available to passengers there.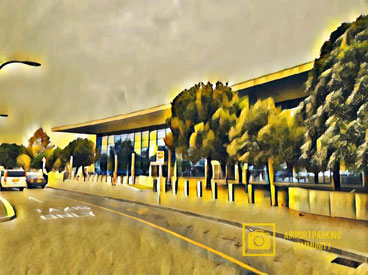 ---
---
Features of the short term lot Zone B at the GIB:

---
Commercial contact details:
T: +350/20012345
E: info@gibraltarairport.gi

A:

British Lines Road, Gibraltar

The difference between the Zone A car park and the Zone B car park at Gibraltar Airport is the maximum parking time allowed and the distance to the terminal entrance. The maximum permitted parking time in the outdoor car park Zone B is 3 hours. In comparison, you can only park your vehicle for a maximum of 2 hours in the Zone A car park. People with disabilities are also allowed to park there for a maximum of 3 hours and the parking spaces for disabled people are clearly marked and signposted on the ground. The Zone B outdoor car park is located behind the Zone A car park, approximately 100 meters from the terminal entrance. A total of around 40 car parking spaces plus additional motorcycle parking spaces are available to travelers here. Zone B parking lot is paved, partially video-monitored, lighted, open 24 hours and partially fenced. From time to time there are checks by the police and security personnel. Border controls take place directly opposite the parking lot. It is recommended that passengers are brought to GIB Airport by friends or family members and picked up at the end of their journey. You will find a covered taxi stand and luggage trolley station next to the airport building. The shelted waiting area of the taxi rank offers weather protection for people who want to be picked up. Pay machines for your parking ticket are on site. Pay at machine and display your ticket. Paid parking is every day from 09:00 to 22:00, including weekends and public holidays. At night you can park your car there for free at your own risk. The airport's website warns that overnight parking is not permitted. For more details such as up to date information and current parking rates visit the official Gibraltar Airport website.
Outward flight: Drive or walk directly to the airport terminal on the day of your departure. It is recommended to be at the airport 2 hours before departure. Passengers from Spain should park on the Spanish side and walk across the border to the airport.

Return flight: On your return journey at Gibraltar Airport and after baggage claim, go straight to the terminal exit. There you can be picked up or order a taxi. Travelers to Spain who need a taxi should walk across the border and take a taxi on the Spanish side. Spanish taxi rank is just across the border. Some shuttle buses go directly to Malaga airport several times a day. Information about the shuttle services and departure times can be found in the Internet.

---
---
What is good about short term parking
Zone B at GIB airport?

illuminated
signposted
handicap parking stalls
open 24 hours
police patrols
security staff patrols
spontaneous parking possible
no key handover necessary
no maximum entrance height
parking bays are marked
100 meters to the terminal
no shuttle transfer necessary
carry luggage
shelted taxi rank
motorbike parking
bike parking
coffee machines in the terminal
pay machines on site
toilet in the terminal
free wifi in the terminal
What is bad about short term parking
Zone B at GIB airport?

not covered
all day parking is not possible
long-term parking is not possible
not gated
partially fenced
partially videomonitored
online reservation is not possible
maximum parking time 3 hours
---
Who else offers Gibraltar airport parking?

---