Gibraltar International Airport is a former military airport located directly on the border between Spain and Gibraltar on the Iberian Peninsula. British airports are the most frequently served. A unique feature of Gibraltar Airport is that passengers living in Gibraltar have to cross the airport runway and passengers living on the Spanish side have to cross the Spain-Gibraltar border to get to the airport terminal. Travelers wishing to drive to Gibraltar Airport in their own vehicle and wish to park near the GIB terminal should be aware that there is no long term parking next to the terminal building. So, if you want to fly away from Gibraltar for a week or two, you'll need to park your vehicle somewhere in town and not right in front of the terminal. A good alternative is to park anywhere in the residential area of La Linea and walk across the border to the GIB airport terminal.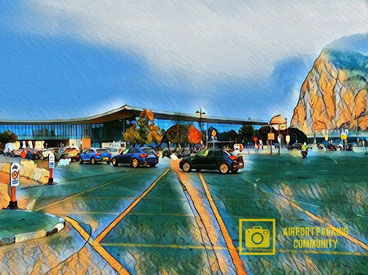 ---
---
Features of the short term lot A at the GIB:

---
Commercial contact details:
T: +350/20012345
E: info@gibraltarairport.gi

A:

British Lines Road, Gibraltar

Gibraltar International Airport has 2 short-stay car parks located directly in front of the terminal building. These are short-term parking Zone A and short-term parking Zone B. First we describe the Zone A parking lot and tell you what options you have in this parking lot when you arrive with your car. The distance from the zone A parking lot to the terminal entrance is about 30 meters. The maximum parking time, at the time of writing this article, is only 2 hours. This means that you are not allowed to park here for more than 2 hours in the Zone A car park. Please note: An early online reservation or pre-booking is not possible. Some locals park their vehicles here for free after 11pm, although according to the airport's website, overnight parking at Zone A is not allowed. The Zone A short-term car park is paved, video-monitored, signposted, well-lit and open 24 hours. There is no fencing and no maximum height limit. The parking bays are clearly marked. Parking spaces for people with disabilities are clearly marked too. Vehicles belonging to the disabled may remain there for a maximum of 3 hours. Parking spaces for motorbikes and mopeds can be found at the rear of the car park. If you just want to drop off or pick up your family or friends, you can drive straight up to the terminal and do that. A covered taxi rank is available for travelers waiting for a taxi. People travelling into Spain will find a taxi stand to the right of the border exit. You will find a luggage trolley station for your suitcases next to the taxi rank. For more information and current parking rates, visit the Giubraltar Airport website.
Outward flight: On the day of your departure, drive to Gibraltar Airport Terminal. Pay at machine and display your ticket. Maximum stay is 2 hours. Every day from 8:00 a.m. to 11:00 p.m., including weekends and public holidays.

Return flight: On your return flight you can order a taxi or you can be picked up by car. Gibraltar airport is also accessible via Spain by rail, by sea, by car or by shuttle service. Airport shuttle service between Gibraltar and Malaga airport runs twice a day, for example.
---
---
What is good about short term parking Zone A at GIB airport?

illuminated
paved
signposted
under video surveillance
handicap parking stalls
open 24 hours
regularly police patrols
patrolled by security staff
spontaneous parking possible
no key handover necessary
no maximum entrance height
parking bays are marked
30 meters to the terminal
no shuttle transfer necessary
carry luggage
covered taxi rank
motorbike parking
bike parking
coffee machines in the terminal
pay machines on site
toilet in the terminal
free wifi in the terminal
What is bad about short term parking Zone A at GIB airport?

not covered
day parking is not possible
long-term parking is not possible
not gated
not fenced
online reservation is not possible
maximum parking time 2 hours
---
Who else offers Gibraltar airport parking?

---