Gibraltar International Airport plays a big role not only for English people living in Gibraltar but also for Spaniards because this airport is right on the border. Due to the fact that long-term parking is not possible right next to GIB Airport in Gibraltar, all Spaniards park their cars in La Linea de La Concepción, behind the border with Gibraltar and then cross the border on foot. Another option for Spanish passengers is to leave their vehicles at home and go to the airport terminal by taxi or shuttle bus. However, as a general rule, most travelers flying out of Gibraltar Airport are driven by friends or family members to the Gibraltar border to be dropped off there. After that, they just have to cross the border on foot and walk about 150 meters to the terminal building. Nevertheless, all travelers from Spain, who drive to the airport terminal in their own car, must keep in mind that parking in the outdoor car park (Zone B) in front of the terminal building is limited to a maximum of 3 hours. So where do the Spaniards leave their vehicles when they fly out of Gibraltar Airport? One such parking option is the Santa Bárbara outdoor car park located in La Linea de La Concepción (Cádiz), across the Spanish border.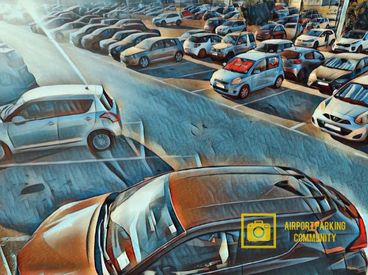 ---
---
Features of the Santa Bárbara Parking at the GIB:

---
Commercial contact details:
T: +34 (0) 956639515
E: info@parkingstabarbara.es

A:

Avenida Príncipe de Asturias, s/n

,

11300

La Linea de la Concepción
The Santa Bárbara outdoor car park in La Linea de La Concepción is a part of the port complex of Bahia de Algeciras and is located about 400 meters from Gibraltar Airport. This is a modern car park with outdoor uncovered parking spaces and covered carports. Guests must decide when making the reservation whether the car will be parked outside or in a carport. The Santa Bárbara  outdoor parking area is fairly large and spacious. A total of 690 parking stalls are available here. 240 parking stalls are covered carport parking spaces and the rest of the parking spaces are not shelted. If you want to protect your car, especially in the hot summer, you should park the car under a carport. Sun, heat and wet cold do not have such a strong impact on the roof material of the car. This means that your car is better protected. The Santa Bárbara parking lot in La Linea de La Concepción (Cádiz) is well lit, signposted, asphalted, under video surveillance, gated, open 24 hours and completely fenced. The maximum height limit outdoors is 3,50 meters and if you park your car under the carport you have to pay attention to the maximum height limit of 1,90 meters. The entire parking area is divided into 2 large parking spaces, parking bays are clearly marked and the driveways are marked with directional arrows. Disabled parking stalls are well marked too. Pay machines are on site. Spontaneous parking is possible at any time. Online reservations are also possible with some parking search engines on the Internet.
Outward flight: Reserve online Santa Bárbara parking in La Linea de La Concepción. You can also park there spontaneously without prior reservation. Drive to this car park on the day of your departure. It is recommended to be at the car park 3 hours before departure. If you have fellow travelers and a lot of luggage, first drive to the border crossing of Spain and Gibraltar (Gibraltar passport control station) and drop off your fellow travelers and luggage there. When you enter the car park area take the ticket and show your booking confirmation at the control booth. Park your vehicle in a free parking stall of your choice. The walk to the airport is about 400 meters.
Return flight: On your return journey you can first walk across the border. There is a passport control. You walk about 300 meters from the border to the parking lot. Show your ticket or booking confirmation at the control booth.

---
---
What is good about Santa Bárbara 
parking at GIB airport?

illuminated
signposted
shelted car ports
handicap parking stalls
open 24 hours
fenced
asphalted
gated
security staff patrols
spontaneous parking possible
no key handover necessary
maximum entrance height 3,50 meters
maximum car port height 1,90 meters
parking bays are marked
400 meters to the terminal
690 parking stalls in total
240 shelted parking stalls
no shuttle transfer necessary
motorbike parking possible
pay machines on site
free cancellation 24 hours before possible
What is bad about Santa Bárbara   
parking at GIB airport?

outdoor parking spaces are not covered
day-parking is expensive
short-term parking (2-3 days) is expensive
management online booking fee must be paid extra
---
Who else offers Gibraltar airport parking?

---