Any journey always begins with preparation and planning. Travellers who skip public transportation and prefer to drive a car also need to think about parking, whether they're flying away or heading up the mountains on foot. It doesn't matter whether you are flying out of Gibraltar Airport (GIB) or want to explore Gibraltar on foot, your vehicle will need to be parked somewhere. And if you drive to Gibraltar and want to park there, you're in for real trouble. Don't get caught by scammers and high parking rates. We recommend parking on the Spanish side at La Linea, especially for passengers who need to travel to the Gibraltar Terminal. Long-term parking in front of the terminal building is not possible. There are only two short-term parking spaces (Zone A and Zone B) with a maximum permitted parking time of 2 and 3 hours. They are only suitable while waiting to pick up arriving passengers. As an alternative for long-term parkers, you can park your vehicle cheaply in the IC - Plaza Constitución garage. This garage is located in down town La Linea and is a short walk from the airport.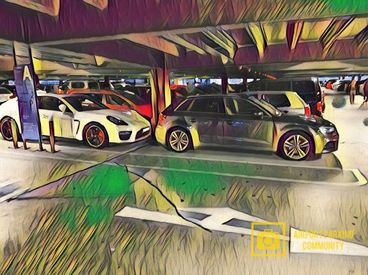 ---
---
Features of the IC Plaza Constitución
Parking at the GIB:

---
Commercial contact details:
T: +34 (0) 956764405

A:

Plaza de la Constitución, s/n

,

11300

La Linea de la Concepción

(Cádiz)
The IC - Plaza Constitución Frontera covered parking is located in La Línea de la Concepción, approximately 900 meters from Gibraltar Airport.
If you want to leave your vehicle in the center of La Linea town for a long time and walk without a shuttle transfer to the Gibraltar airport terminal, then this parking IC - Plaza Constitución garage is for you. Plaza Constitución parking is covered, video-monitored, lighted, open 24 hours, asphalted, signposted and secured with the entrance barrier. The maximum height limit is 2,10 meters, which allows larger cars to be parked. From the moment you enter this parking lot, the parking guidance system automatically performs the guidance of your vehicle. This system tells you the directions to where to find a free parking space. You can find there wc, parking spaces for disabled people and control booth (control center) where you can do your check in by arriving and check out by departure. Please note the opening hours of the parking control center. Current opening hours can be found on the Internet. It is possible to reserve this car park online in advance or to park there spontaneously without a reservation. If you bring a lot of luggage and have fellow travellers with you, we recommend that you first drive to the border crossing and drop off your fellow travellers there.
Outward flight: You can reserve the IC - Plaza Constitución covered parking online on the Internet. You will drive to the parking entrance at Plaza de la Constitución, s/n, 11300 La Linea de la Concepción on the day of the flight. In front of the entry barrier, get a parking ticket at the entry terminal. Drive in and park your car in a free parking space. Then go to the parking control center and show your reservation confirmation to the employee. You will receive an exit card / entry card. The walk to the border crossing of Spain and Gibraltar takes about 15 minutes. Take your passport with you.
Return flight: At the end of the journey, go to the terminal exit. The border crossing is about 150 meters from the terminal. After the border control, go to the parking garage. Before leaving car parking, go to the control booth to inform the staff about your departure. They will open the exit barrier for you. If the parking control booth is closed, simply insert your parking ticket into a parking machine when exiting. The entrance barrier goes up.

---
---
What is good about IC Plaza Constitución parking at GIB airport?

illuminated
signposted
covered
handicap parking stalls
open 24 hours
fenced
asphalted
gated
security staff patrols
spontaneous parking possible
no key handover necessary
maximum entrance height 2,10 meters
parking bays are marked
900 meters to the terminal
no shuttle transfer necessary
pay machines on site
free cancellation 24 hours before
control booth
online reservation possible
online reservation guarantees a parking space
reservation confirmation by email
parking guidance system
wc
What is bad about IC Plaza Constitución parking at GIB airport?

no contact email address
parking control office is closed in the night
no luggage trolley station
---
Who else offers Gibraltar airport parking?

---