Our car park option number 6 is SkyParks business center. If you want to drive to Malta Airport (MLA) in your own car and save yourself the long search for a parking space, you have to park your car in a paid parking lot or in a multi-storey car park. However, parking in a parking garage is not always possible, especially when driving a large vehicle to the airport terminal. Because of this, most passengers and visitors use public transport to get to Malta Luqa International Airport. Sometimes passengers try to park their vehicles in Gudja, near the airport, which causes many complaints from local people. That is why the restriction on parking in Gudja by non-residents was seen as necessary, because Gudja is the closest place to the Airport of Malta and can be reached on foot. In today's post, we take a look at the SkyParks Business Center car park at Luqa Malta Airport, its traffic rules, features and give tips for driving in, parking and more.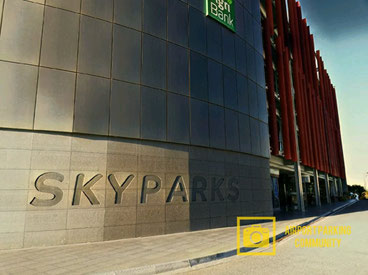 ---
---
Features of the SkyParks Business Centre

at the MLA:

---
Commercial contact details for up-to-date information, parking prices, inquiries, reservations, address of the parking lot and how to get in touch:


A:

Malta International Airport plc Luqa LQA 4000
E: info@maltairport.com
---
Direct link to the car park operator here:
---
There are two covered car park options at Malta Airport: Park East car park and SkyParks Business Center garage. SkyParks Business Center at MLA is a multi-purpose building with a big number of different services, covered parking spaces, fitness, companies with small and big businesses, gastronomy and so on. Around 160 parking spaces are available for passengers, visitors to the center and visitors to the airport. This car park has two underground levels, is well lit, covered, under video surveillance (CCTV throughout the building and its surroundings), asphalted, open 24 hours a day and has a barrier at the entrance and at the exit. Maximum entrance height is 2,20 meters. Parking stalls (parking lines) and directional arrows are clearly marked. The entrance to the two-level-car-park is on the right-hand side of the building, next to the outdoor car park P3. The distance to the departure hall is about 150 meters and you walk about 2 minutes with your luggage. You can walk to the terminal entrance via the pedestrian bridge and via the P1 outdoor main car park. Luggage trolley stations can be found on site and in front of the terminal building. The first 10 minutes of your stay in SkyParks garage are free. For more information and up-to-date parking prices, visit the Malta Luqa Airport official website.
Outward flight: Drive directly to the SkyParks car park at Malta Airport. You will receive a parking ticket at the entrance barrier. Park your car in a free parking stall. You must keep the parking ticket carefully until the end of your journey or your stay at the MLA airport.
Return flight: To exit the SkyParks car park, you must pay for the parking time. Two pay stations are located on level -1 and level 1 at SkyParks Business Centre. Insert your parking-ticket into the slot and pay the fee. Once payment is complete, you can exit the car park. The exit-barrier will rise to allow exit.
---
---
What is good about SkyParks business 
centre at MLA?

illuminated
covered
well signposted
open 24 hours
has 2 levels
assistance button
paved
under video surveillance
CCTV throughout centre surroundings
security staff patrols
spontaneous parking possible
no key handover necessary
maximum entrance height 2,20 meters
160 parking stalls
parking stalls are well marked
150 meters to the terminal
no shuttle transfer necessary
baggage cart stations on site
pay machines on site
control booth at P1
wc in the business centre
coffee machines in the business centre
restaurant in the business centre
McDonald`s nearby
taxi ranks nearby
bus stops nearby
lift
What is bad about SkyParks business 
centre at MLA?

a fee for lost tickets applies
not responsible for damages
not responsible for theft
day parking is expensive
long-term parking is expensive
no online reservation possible
---
Who may also offer Malta airport parking?

---