Gibraltar Airport (GIB) is not so big and the number of flights per day is small. According to our observations, about 4 to a maximum of 10 planes land in the high season per day and accordingly the number of passengers is low compared to other airports. Most flights go to Great Britain, rarely to other countries. As a result, Gibraltar Airport does not operate long-term parking and only offers 2 short-term car parks (Zone A and Zone B) right next to the terminal building. Travelers must take this into account so that they do not drive directly to the airport terminal and look in vain for a long-term parking spaces there. Because it takes time, money and nerves. Those who are familiar with this situation and have traveled several times from Gibraltar Airport usually park in La Linea de la Concepción, on the Spanish side, just over the national border. One of such parking spaces, where airport-parking is most common, is the covered parking garage IC Aparcamiento Centro near the Ayuntamiento de La Linea de la Concepción and near the Conservatory of Music.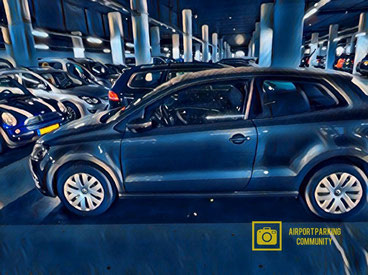 ---
---
Features of the IC Aparcamiento Centro Parking at the GIB:

---
Commercial contact details:

A:

Avenida del Éjercito, s/n

,

11300

La    Línea de la Concepción
IC Aparcamiento Centro (also called Car Park La Linea Centro), is a covered garage located approximately 550-600 meters from Gibraltar Airport Terminal. The distance to the border crossing of Spain and Gibraltar is about 450 meters and you walk about 12 to 15 minutes. Cheap parking prices and decent sized parking spaces make this car park very popular among travellers. Car Park La Linea Centro is covered, lighted, under video surveillance, signposted, manned, gated, paved and open 24 hours. Reception booth is open from morning to late afternoon, but not on weekends and public holidays. The entrance and exit are clearly marked. You should not confuse the entrance with another entrance to the parking garage nearby. You will also find parking spaces for people with disabilities and the toilets there. Maximum entrance height of 2,20 meters allows you to park there with larger cars. Parking spaces can be reserved online at any time. Spontaneous parking is also possible. You can find more information about the IC Aparcamiento Centro on the Internet. If you have a lot of luggage, drive your fellow travelers to the border crossing first.
Outward flight: First reserve the IC Centro car park garage online. Spontaneous parking without prior reservation is of course also possible. Enter the parking garage at Avenida del Ejército - 11300 La Línea de la Concepción (Cádiz) on the day of your departure. In front of the entry barrier, get a parking ticket at the entry terminal. Park your car in a free parking space of your choice. Then go to the car park reception and show your booking confirmation. You will be given an access card that allows you to enter and exit 24/7 as many times as you want until the end of your reservation. You can only exchange your booking confirmation during the opening hours of the parking office (Monday to Friday 7:00 a.m. to 3:00 p.m.). Current opening hours can be found on the Internet. It takes about 15 minutes to walk to Gibraltar Airport with your luggage. Observe the rules of border crossing and take your travel passport with you.
Return flight: Upon returning from Gibraltar Airport, proceed across the national border to the IC Aparcamiento Centro car park. The walk takes about 10 to 15 minutes. Before leaving the car park, go to the parking control center to inform the car park staff about your departure. They open the exit barrier for you. If the parking control office (reception booth) is closed, simply insert your parking ticket into a parking machine when exiting. This raises the exit barrier.

---
---
What is good about IC Centro parking
at GIB airport?

illuminated
signposted
covered
handicap parking stalls
open 24 hours
fenced
asphalted
gated
security staff patrols
spontaneous parking possible
no key handover necessary
maximum entrance height 2,20 meters
parking bays are marked
550 meters to the terminal
no shuttle transfer necessary
pay machines on site
free cancellation 24 hours before possible
reception booth
online reservation possible
online reservation guarantees a parking space
reservation confirmation by email
wc
What is bad about IC Centro parking at  
GIB airport?

no contact email address
no contact telephone number
parking control office is closed on weekends
parking control office is closed in the evening
parking control office is closed on public holidays
no luggage trolley station
---
Who else offers Gibraltar airport parking?

---