Regina International Airport (YQR) is an international commercial airport near the city of Regina in the Canadian province of Saskatchewan. There is a sufficient number of parking spaces available for travelers at Regina Airport. More than 1610 stalls are spread over the 3 areas: long-term parking lot, short-term parking lot and overflow lot. Short-term parking is intended for stays of 2 hours or less and is used in most cases by airport visitors, airport stuff, meeters and greeters. Long-term parking lot is intended for travelers who want to travel for a longer period of time. That can be a week or a month, for example. The overflow parking lot is most often only used when the long-term parking lot is full. In most cases during peak periods in the winter charter season. In this article we will talk about the long-term parking lot and its specifics. Some information about car park option number 1 here.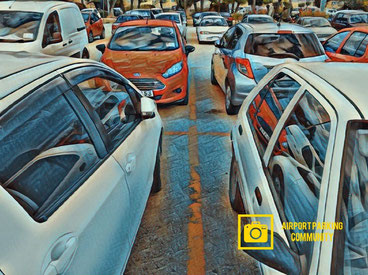 ---
---
Features of the long term lot at YQR:

---
Commercial contact details for up-to-date information, parking prices, inquiries, reservations, address of the parking lot and how to get in touch:


A:

1-5201 Regina Ave. Regina, Saskatchewan, Canada S4W 1B3
---
Direct link to the car park operator here:
---
If you plan to travel for a longer period of time from Regina Airport (YQR), parking in the long-term parking lot with complimentary plugins is recommended. Long-term Parking lot is the largest parking lot at Regina Airport, which can accommodate over 1100 vehicles. The distance from the terminal building to the long-term parking lot is about 50 meters. Depending on where you park your car, it takes about 1 to a maximum of 2 minutes to walk. All side walks are paved and marked with directional arrows. This outdoor car park is planted in many places and offers some parking spaces in the shade. Long-term parking lot is well lit, paved and gated. It has no maximum entrance height and has no fence. The whole area is demarcated with barrier chains. Meeters and greeters can drive directly to the terminal building to drop off or pick up friends and family members. You can find more free parking spaces on the cell phone lot. The cell phone lot is located near the airport on the right as you enter the parking spaces. You can wait here for free in your vehicle until your family or friends have arrived. After they have arrived and have called you per phone, you can pick them up at the curb. Check the YQR airport's website for up-to-date information on parking rates. Designated stalls for accessible parking are located across from the terminal building.
Outward flight: You will drive your vehicle to Regina Airport (YQR). Please follow the signs to long-term parking lot. Upon entering the long-term parking lot, push the button for a parking ticket. Pull out the ticket and the gate will rise.
Return flight: Upon your return at YQR Airport, go to express pay stations located on inside the airport terminal. After you have paid, you can use your ticket to exit the parking lot. You can also pay at the parking lot exit with your credit card or debit card if you want.
---
---
What is good about long term parking at YQR?

illuminated
paved
signposted
gated
open 24 hours
regularly police patrols
patrolled by security staff
spontaneous parking possible
handicap parking spaces
no key handover necessary
no maximum entrance height
parking bays are marked
50 - 200 meters to the terminal
no shuttle transfer necessary
coffee machines in the terminal
changing room in the terminal
family room in the terminal
free WIFI in the terminal
express pay stations
carry luggage
cell phone lot
What is bad about long term parking at YQR?

not covered
daily parking is expensive
not under video surveillance
not fenced
handicap parking stalls subject to regular parking fees
---
Who else offers Regina airport parking?

---