A trip to Malta is always a nice experience, whether you fly there in summer or in winter. Legendary Valletta, Gozo, Comino and Blue Lagoon attract millions of tourists to the country every year. To travel around the island of Malta, holidaymakers most often use public transport and shuttle buses. Familiar with left-hand traffic, many travelers also use cars just like locals do. Malta is known for its high concentration of cars on its roads. This tense traffic situation is also noticeable at Malta Airport (MLA), where the traffic situation is often quite tense. From time to time there are even traffic jams in front of the terminal building because the number of cars, shuttles, buses and delivery vans is too large. Passengers driving to Malta Airport and wishing to park there need to follow a few rules and inquire about parking facilities in advance. There are several zones for drop-offs and pick-ups, which are actually well and clearly signposted. For pick-ups and drop-offs, Malta International Airport offers a short free car park just in front of the terminal. And we want to tell you about them here in this article. Here is the number 1 car park option.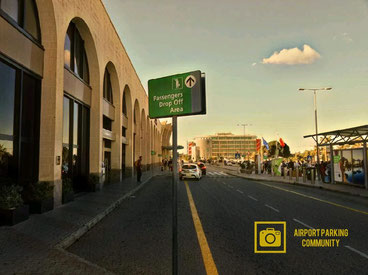 ---
---
Features of the Drop Off Zone Parking at the MLA:

---
Commercial contact details for up-to-date information, parking prices, inquiries, reservations, address of the parking lot and how to get in touch:


A:

Malta International Airport plc Luqa LQA 4000
E: info@maltairport.com
---
Direct link to the car park operator here:
---
Meet-and-Greet parking spaces (passengers drop-off area and passengers pick-up area) are located directly in front of the departure hall next to the terminal entrance or on the other side of the street behind the public bus stops. These are the long parking bays that are marked with large special signs like: Passengers Drop-Off Area. The distance to such parking bays is only a few meters and you walk with your luggage in less than a minute. These drop-off and pick-up zones are good for getting off or on the car quickly. You can also load and unload your suitcases or bulky luggage here. Drop-off and pick-up parking bays are well lit, signposted, paved, under video surveillance (CCTV) and open 24 hours. There is no maximum height limit and the entrance is not secured with an entrance barrier. You will find several luggage trolley stations in front of the terminal building. Drivers who pick up passengers or bring them to the terminal must not exceed the maximum parking time of 10 minutes. The maximum parking time of your stay below 10 minutes at any of the Airport Malta car parks is free. If you are dropping off or picking up someone at Malta Airport, we recommend that you do not take any risks and do not stay there indefinitely. For more information, please visit the Malta Luqa Airport website.
Outward flight: You drive directly to Malta Airport terminal. Please look out for the signs: Taxi Coaches and Drop-Off Area. Upon arrival at the terminal, park your vehicle at a drop-off parking lot. Pay attention to the length of your stay in the parking lot.
Return flight: After baggage claim, go to the terminal exit. You will find pick-up parking bays directly in front of the terminal building. There you will be picked up.

---
---
What is good about drop off zone parking at MLA?

illuminated
well signposted
open 24 hours
asphalted
under video surveillance
security staff patrols
regularly police patrols
spontaneous parking possible
no key handover necessary
no maximum entrance height
parking bays are marked
10 to 20 meters to the terminal
no shuttle transfer necessary
baggage cart stations on site
pay machines on site
control booth at P1
wc in the terminal
coffee machines in the terminal
changing room in the terminal
10 minutes stay free
drop-off area / pick-up area
taxi ranks nearby
bus stops nearby
What is bad about drop off zone parking at MLA?

not covered
not fenced
maximum stay for 10 minutes
not responsible for any damage
---
Who may also offer Malta airport parking?

---