If you're planning to fly out of Abbotsford Airport during the summertime or holiday period, be prepared that your vehicle will have to be parked in the overflow parking lot. Overflow parking lot, our car park option number 3, is only available to you during peak travel periods, when the other outdoor parking spaces (long-term parking and short-term parking) are full and there are not enough parking spaces left for all travelers. You can call overflow parking lot a reserve parking lot. Peak travel period is the summer months of June, July and August, and for a good reason. You can travel across the country, visit other countries, enjoy a wide-spanning array of activities and enjoy the school holidays. In general, June through August are the warmest months and the fenced overflow car park is open and ready to greet passengers at Abbotsford Airport (YXX).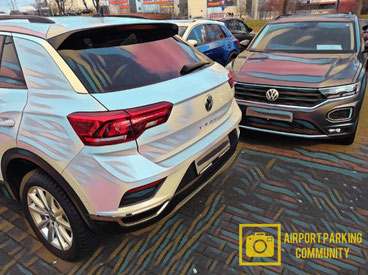 ---
---
Features of the overflow lot at YXX:

---
Commercial contact details for up-to-date information, parking prices, inquiries, reservations, address of the parking lot and how to get in touch:


A:

30440 Liberator Avenue, Abbotsford, BC Canada V2T 6H5
C: Contact form on the airport website
---
Direct link to the car park operator here:
---
Unfortunately, it is not possible to reserve parking spaces online at Abbotsford Airport. You can spontaneously park in any parking space. If all parking spaces in the are occupied and you cannot find a free parking space, use the overflow parking lot. Overflow lot is fenced, signposted and open 24 hours. It is not under video surveillance and is not paved. The walking distance from the terminal building is about 250 meters. If you have any problems or questions, guest service is on site 24 hours a day. Disability parking spaces are also available but not in the overflow parking lot. You can find disability parking spaces in front of the terminal in the long-term parking lot and in the short- term parking lot. They are marked with blue paint. Bicycle parking is in front of the airport. Travelers can use free WIFI throughout the terminal building. You can pull your parking tickets at the entrance. After your trip you must scan your ticket and the price will be displayed on the monitor of the payment machine. You can exit overflow lot after you have paid (debit or credit possible). Next pay station is in the long-term lot.
---
---
What is good about overflow parking at YXX?

illuminated
fenced
signposted
open 24 hours
regularly police patrols
spontaneous parking possible
no key handover necessary
250 meters to the terminal
no shuttle transfer necessary
coffee machines in the terminal
wc in the terminal
changing room in the terminal
free wifi in the terminal
What is bad about overflow parking at YXX?

not covered
no online reservation possible
daily parking is expensive
weekly parking is expensive
not under video surveillance
not paved
no pay stations on site
no parking spaces for the disabled
open during peak travel periods only
---
Who else offers Abbotsford airport parking?

---