Each airport has a separate area where travelers flying on vacation are picked up directly from the terminal and taken directly to the booked hotel by shuttle bus or by passenger van. All tour operators offer a wide range of transfer options to suit all budgets, no matter where you want to travel on the island of Malta. These are usually all-inclusive trips. Together with the documents for the hotel reservation, you will also receive all information about your transfer: where the shuttle bus or tour-operator-taxi will be waiting for you at the airport and at what time your pick-up will take place. If you want to use the hotel's airport transfer service, you should let your tour operator know before you arrive. Parking spaces where passengers are picked up after arrival at Malta Luqa (MLA) Airport are called parking lots for booked transport. In this article we would like to give you an overview of the outdoor parking space for booked vans, coaches, luggage vans, buses, mini buses, company taxis and its characteristics at the Airport of Malta. Some information to Car Park Option Number 5 here.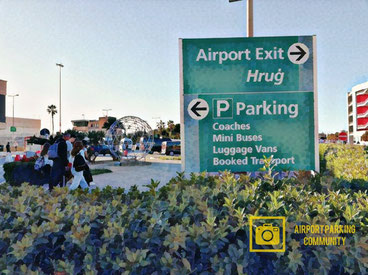 ---
---
Features of the Booked Transport Parking at the MLA:

---
Commercial contact details for up-to-date information, parking prices, inquiries, reservations, address of the parking lot and how to get in touch:


A:

Malta International Airport plc Luqa LQA 4000
E: info@maltairport.com
---
Direct link to the car park operator here:
---
The outdoor car park for booked transport at Malta Airport is located right next to the terminal building, on the right-hand side. The distance to this parking lot is about 40 meters. The collection point for passengers who have just arrived is located directly in front of the terminal exit. Employees, who work for different tour operators, allocate the seats in the shuttle bus depending on which hotel on the island these passengers have to go to. The parking lot for booked transport may only be entered by authorized vehicles belonging to tour operators. They are: mini buses, buses, booked vans, luggage vans, coach buses and tour operator taxis. These are all means of transport typically used to transport passengers on the islands of Malta, Gozo and Comino. All vans and buses are available 24 hours a day, whenever you need service. The parking area for booked transport is paved, partially video-monitored, signposted, open 24 hours, well lit and has an entrance barrier. Parking stalls are clearly marked with white color. There is no maximum height limit and this car park is not fenced. This parking lot is not open for private pick ups and drop offs. For private pick-ups and drop-offs, luggage loading or unloading use the designated areas directly in front of the terminal building. For more information on Malta airport parking visit the MLA airport website.
Outward flight: Book your trip together with the hotel transfer. May through October is peak travel time on the islands of Malta and Gozo, and all vans and coach buses are in high demand so reserve your hotel transfer well in advance. Your hotel transfer is guaranteed when it is booked and a confirmation number is provided. Upon arrival at Malta Airport, you will be met. The travel company staff will hold signs with your name or the name of the tour operator, which you can find on your booking confirmation. You will be accompanied to the shuttle bus, which will be waiting for you in the parking lot for booked transport. After that you will be transferred to your hotel.
Return flight: After return transfer from the hotel to Malta Airport, go directly to the check-in area. The distance from the parking lot to the terminal building is about 40 meters.

---
---
What is good about booked transport parking at MLA?

illuminated
well signposted
open 24 hours
paved
entrance barrier
under video surveillance
security staff patrols
regularly police patrols
no key handover necessary
no maximum entrance height
parking bays are marked
40 meters to the terminal
baggage cart stations on site
control booth at P1
assistance button
wc in the terminal
coffee machines in the terminal
changing room in the terminal
taxi ranks nearby
bus stops nearby
parking for coach buses
parking for mini buses
parking for luggage-vans
parking for passenger-vans
parking for booked transport
travel operators
What is bad about booked transport
parking at MLA?

not covered
parking for passengers not possible
parking for visitors not possible
parking for private pick-ups and drop-offs not possible
no fencing
no parking spaces for disabled people
---
Who may also offer Malta airport parking?

---