In order to answer the question of where to park at the cheapest place at Malta Luqa International Airport, you should first get an overview of the various parking options nearby. As the island of Malta is quite small and the number of cars is high, parking lots get full, especially in the summer and holiday periods. In addition, it should not be forgotten that many travelers who rent cars and fly away for a few days on business, leave their cars next to the terminal building in an outdoor parking lot or in a parking garage. In addition to the classic short-term and long-term parking spaces, there is now a choice of different parking options at Malta Airport (MLA). Parking spaces for airport employees and taxis can also be found there. Such parking spaces are marked accordingly with Authorised Vehicles and Taxi signs. At Malta Airport you will find these car parks to the left of the terminal building. Here is information about Car Park option number 3.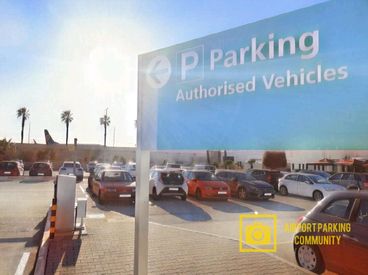 ---
---
Features of the Authorised Vehicles Parking at the MLA:

---
Commercial contact details for current information, parking prices, inquiries, reservations, directions and contact:


A:

Malta International Airport plc Luqa LQA 4000
E: info@maltairport.com
---
Direct link to the car park operator here:
---
Authorized vehicles are vehicles that have permission from the Malta Luqa airport administration to stop or park next to the terminal on a thorougfare or special parking facility. Such parking area can be found to the left of the airport building and designated by signs to be used by parking authorised vehicles only. Authorised vehicles include vehicles owned by airport administration employees, police, fire and ambulance, for example. Taxis are also included in this and have specially marked parking stalls and the driveway nearby. The distance from this outdoor car park to the terminal building is around 20 to 100 meters, depending on where the car is parked. Passengers and travelers are not allowed to park in this parking lot. Authorized vehicles car park at Luqa Malta Airport (MLA) is well lit, under video surveillance, tarmacked, open 24 hours, signposted and gated at entry. The exit has no barrier, but is secured with exit bollards on the ground so that entry through the exit is not possible. There is no fence and no maximum entry height. There are 6 disabled parking spaces right next to the airport building. These are marked with blue paint and the disabled logo. A total of around 140 taxi and authorized vehicle parking stalls are available here. It is also possible to park bicycles, mopeds and motorbikes there. For more information on car parks, car ports and covered parking lots at Malta Airport, visit the airport website.
Outward flight: Since parking in the authorised vehicle parking lot is only allowed for certain vehicles, this parking area does not play a practical role for passengers and visitors of the airport.

Return flight: The distance to your vehicle, which is parked in the authorised vehicle parking lot, is about 20 to 100 meters. You do not need to validate a ticket for the exit. The exit has no barrier.

---
---
What is good about authorised vehicles 
parking at MLA?

illuminated
well signposted
open 24 hours
paved
under video surveillance
security staff patrols
regularly police patrols
spontaneous parking possible
no key handover necessary
no maximum entrance height
parking bays are marked
20 to 100 meters to the terminal
no shuttle transfer necessary
baggage cart stations on site
pay machines on site
control booth
wc in the terminal
coffee machines in the terminal
changing room in the terminal
exit bollards
taxi ranks nearby
bus stops nearby
What is bad about authorised vehicles
parking at MLA?

not covered
not fenced
not responsible for any damage
online reservation not possible
not for passengers
not for visitors
---
Who may also offer Malta airport parking?

---