Since the island of Malta is very small and the number of tourists and vehicles on the roads is increasing year by year, parking is a problem. The top localities in Malta with the largest number of tourists where people have parking problems are: St Paul's Bay, St Julian's, Sliema, Birkirkara, Msid, Gzira, Most, Qormi and Marsaskala. In Gozo the parking shortage is most acute in Victoria and Zebbug. Nevertheless, there are many travellers who like to rent a car to explore the island. But they have to reckon with a long search for a parking space. To avoid all the stress, it is recommended to use public transport. Travelers and locals who want to leave their vehicles at Malta Airport (MLA) must also get to the terminal early to get a parking space, especially in high season. When all car parks at Luqa Malta Airport are full, you can park in the small car park P3 not far from the terminal building. This parking lot is used less often because not everyone knows it exists. Some features of the car park option number 8 here.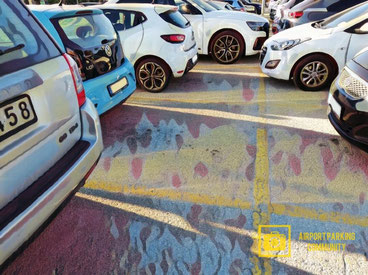 ---
---
Features of the long term P3 at the MLA:

---
Commercial contact details for up-to-date information, parking prices, inquiries, reservations, address of the parking lot and how to get in touch:


A:

Malta International Airport plc Luqa LQA 4000
E: info@maltairport.com
---
Direct link to the car park operator here:
---
The P3 outdoor car park at Malta Airport is located next to the SkyParks Business Center, approximately 250 meters from the airport building. P3 is the smallest car park at Malta Airport, offering approximately 75 parking stalls for travellers and guests. You will also find the motorcycle parking stalls there. Motorbike parking stalls are specially designated and marked. P3 is paved, has an entry barrier, illuminated, signposted and under video surveillance. P3 can be called a reserve parking lot, which is well filled in high season. In winter, when tourist numbers drop, P3 is empty or almost empty. There is no maximum height limit at the entrance. The entire P3 car park area is not fenced. You can pay at the pay stations next to McDonald`s, and two pay stations are located on level -1 and level 1 at SkyParks Business Center. If you want to know the current parking prices, go to the airport's website on the internet. Parking prices and information about parking lots at Malta Airport are regularly updated there.
Outward flight: You drive your car directly to the airport terminal. Upon entering you will receive a parking ticket from the ticket machine. The entrance barrier goes up. Park your car in a free parking space. You must keep this parking ticket carefully until the end of your journey or your stay at the MLA airport.
Return flight: To exit the P3, you must pay for the parking time. Two pay stations are located on level -1 and level 1 at SkyParks Business Center and one more pay station you can find in front of McDonald`s, behind the SkyParks Business Center. Insert your parking-ticket into the slot and pay the fee. Once payment is complete, you can exit the car park. The exit-barrier will rise to allow exit.
---
---
What is good about long term P3 at MLA?

illuminated
well signposted
open 24 hours
assistance button
asphalted
under video surveillance
security staff patrols
spontaneous parking possible
no maximum entrance height
no key handover necessary
parking stalls are well marked
250 meters to the terminal
no shuttle transfer necessary
baggage cart stations near the terminal
pay machines on P1, in the SkyParks building and in the terminal
control booth at P1
wc in the terminal
wc in the SkyParks building
coffee machines in the terminal
McDonald`s behind the SkyParks building
taxi ranks in front of the terminal
bus stops in front of the terminal
What is bad about long term P3 at MLA?

a fee for lost tickets applies
not responsible for damages
not responsible for theft
day parking is expensive
long-term parking is expensive
no online reservation possible
not covered
maximum free stay only for 10 minutes
not fenced
---
Who may also offer Malta airport parking?

---