Malta is a popular island that attracts thousands of tourists every year. Most travellers come to Malta by plane, fewer get there by ferry from Sicily. The majority of travellers who arrive by plane use public transport, hotel shuttle buses in most cases or rent a car. Those who rent cars should be familiar with left-hand traffic. Compared to other European countries, Malta has left-hand traffic because Malta was a British colony earlier from 1814. People who want to leave the island of Malta for a short time and want to park their car near the airport terminal should inquire about parking options in advance so that they do not waste time getting to the MLA airport. One of the outdoor car parks near the terminal at Malta Luqa Airport is car park P2. Due to the fact that P2 car park is a bit further from the terminal building, most people don't know that P2 exists. In this article we would like to tell you about the characteristics of this car park option number 7.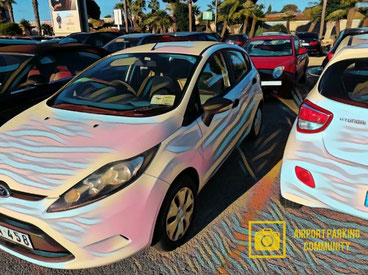 ---
---
Features of the long term P2 at the MLA:

---
Commercial contact details for up-to-date information, parking prices, inquiries, reservations, address of the parking lot and how to get in touch:


A:

Malta International Airport plc Luqa LQA 4000
E: info@maltairport.com
---
Direct link to the car park operator here:
---
Compared to the P1 main car park, the P2 is quite small. You will find this car park behind the outdoor car park for booked transport / luggage vans on the right-hand side of the terminal building. The distance to P2 from the terminal exit is about 200 meters and you walk with your luggage less than 2 minutes. By the way, you will find the luggage trolley stations directly in front of the terminal exit and in front of the airport building. P2 Malta airport car park is lighted, signposted, paved, has an entry barrier and is open 24 hours. A total of 165 parking stalls are available for passengers here. There is no maximum height limit at the entrance. The entire P2 car park area is not fenced. Disabled passengers can park in specially marked parking areas for disabled people. There you will find 5 such. Disabled parking spaces are extra wide and marked with blue paint. The entrance and exit are marked with directional arrows. You will find the nearest payment machines next to McDonald's or in the terminal building. Current prices for parking at P2 can be found on the airport website.
Outward flight: You drive directly to P2. We recommend that you come to the car park 2 hours before your flight. Take a parking ticket from the automated ticket dispenser at the entrance. The entrance barrier will go up. Park your car in a free parking stall. Please keep your parking ticket safe until the end of your trip. The walk to the airport terminal takes about 1 to 2 minutes.
Return flight: Upon your return, go to the terminal exit. To exit P2 parking lot, you must validate your parking ticket. Pay station machines are located on ground floor in the terminal building or near McDonald`s. To exit the car park, insert your ticket into the automated machine. The exit-barrier will rise to allow exit.
---
---
What is good about long term P2 at MLA?

illuminated
well signposted
open 24 hours
assistance button
asphalted
under video surveillance
security staff patrols
spontaneous parking possible
no maximum entrance height
no key handover necessary
parking stalls are well marked
200 meters to the terminal
no shuttle transfer necessary
baggage cart stations on site
pay machines on site
control booth at P1
wc in the business centre
wc in the terminal
coffee machines in the terminal
mc`donalds nearby
taxi ranks in front of the terminal
bus stops in front of the terminal
What is bad about long term P2 at MLA?

a fee for lost tickets applies
not responsible for damages
not responsible for theft
day parking is expensive
long-term parking is expensive
no online reservation possible
not covered
maximum free stay only for 10 minutes
not fenced
---
Who may also offer Malta airport parking?

---