Anyone who frequently travels by car on the island of Malta knows the parking problem. Malta International Airport (MLA) is not an exception, although the number of car parks there is quite large. All car parks and parking garages near the terminal must be paid and travelers have to choose between an outdoor parking space or a covered parking space. But parking in a parking garage is not always possible, especially in the summer when everyone goes on vacation or when you are traveling with a large vehicle. Most people would like their cars to be parked indoors and not outside in the sun. In midsummer (July and August) temperatures of up to 40°C are reached as Malta is under the influence of the warm African winds. In today's post, we're going to take a look at the Park East car park at Malta Airport, describing the features of this multistorey car park. For current Park East parking rates, visit the official MLA airport website. We continue to Car Park option number 4.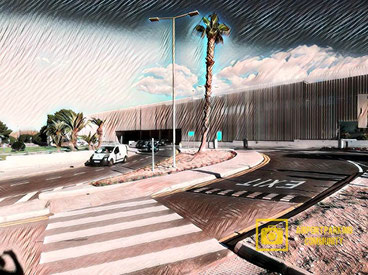 ---
---
Features of the Park East Parking at the MLA:

---
Commercial contact details for current information, parking prices, inquiries, reservations, directions and contact:


A:

Malta International Airport plc Luqa LQA 4000
E: info@maltairport.com
---
Direct link to the car park operator here:
---
The Park East car park at Malta Luqa Airport was built on the place of the former outdoor car park and was opened in 2018. This is a modern multi-storey building with an open-air level and photovoltaic solar system which is composed of  many solar panels on the top. A total of around 1300 parking spaces are available here for travelers and locals. The open-air level accommodates more than 450 parking stalls. This building also provides areas of operation for different car rental companies and has a police station. A photovoltaic system converts the free sun energy into solar power. This allows the entire Park East parking to be supplied with electricity during the day and in the night. Prices for hourly parking in the Park East car park at Luqa Malta Airport are more expensive than parking in an outdoor car park or in the SkyParks Business Center garage. Current parking prices can be found on the MLA Airport website. Park East multistorey car park is well-lit, video monitored, signposted, secured, has an entry barrier and an exit barrier, is open 24 hours and is covered. The maximum entrance height for vehicles is 2,30 meters. You can take the parking ticket at the entrance from the automated ticket dispenser. Payment can be made at the end of the trip at pay stations in the car park building. Pay stations are located on ground floor and on level -1 of the Park East. Parking spaces for people with disabilities are marked with blue paint and the disabled sign and are wide to allow enough space for disabled people to get off and on. Toilets, elevators and the connection with the terminal building through tunnel are other positive features of this car park. If you have any questions or problems, you can contact the staff at the parking control booth.
Outward flight: You drive directly to Park East Car Park Malta Airport on the day of your departure. We recommend you to be there 2,5 hours before departure. Take a parking ticket from the automated ticket dispenser at the entrance. The entrance barrier goes up. Park your car in a free parking stall. Please keep your parking ticket safe until the end of your trip. The walk to the airport terminal takes about 2 minutes. Use luggage-trolleys for your luggage.

Return flight: After your return journey at Malta Airport and after baggage claim, go to the parking garage. To exit, you must validate your parking ticket. You can do it at one of the pay stations. Pay station machines are located on ground floor and on -1 level of this car park. To exit the car park, insert your ticket into the automated machine. The exit-barrier will rise to allow exit.
---
---
What is good about Park East multistorey parking at MLA?

illuminated
covered
well signposted
open 24 hours
paved
under video surveillance
security staff patrols
regularly police patrols
spontaneous parking possible
no key handover necessary
maximum entrance height 2,30 meters
parking bays are marked
300 meters to the terminal
no shuttle transfer necessary
baggage cart stations on site
pay machines on site
control booth
assistance button
wc in the terminal
coffee machines in the terminal
changing room in the terminal
tunnel to the terminal
taxi ranks nearby
bus stops nearby
lift
What is bad about Park East multistorey

parking at MLA?

day parking is expensive
hourly parking is expensive
long-term parking is expensive
no online reservation possible
a fee for lost tickets applies
---
Who may also offer Malta airport parking?

---