Thanks to its central and convenient location, Abbotsford Airport (YXX) can be reached quickly by car from Bellingham, Vancouver and Richmond. From the short-term car park you can easily walk to the terminal in a maximum of one minute. It is recommended for drop-offs, pick-ups and parking up to a maximum of 3 hours. If you want to leave your car in a short-term lot overnight or for one week, for example, you will pay a lot for that convenience. Long-term parking is located right next to the short-term parking and offers cheaper rates for long-term parkers. Bicycle parking is located next to the Guest Services Kiosk, directly in front of the YXX airport building. However, the security of the parked bicycles is not guaranteed and the bicycles are not under video surveillance. Some information about car park option number 2.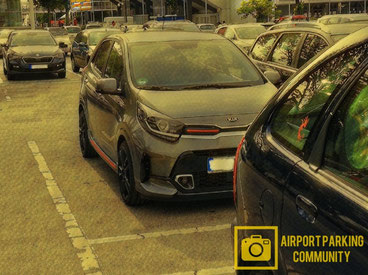 ---
---
Features of short term lot at YXX:

---
Commercial contact details for up-to-date information, parking prices, inquiries, reservations, address of the parking lot and how to get in touch:


A:

30440 Liberator Avenue, Abbotsford, BC Canada V2T 6H5
C: Contact form on the airport website
---
Direct link to the car park operator here:
---
Disability parking spaces are available in both the Daily, Weekly and Hourly lots. They are marked with the blue sign on the asphalt. Holders of a disabled person's pass with the appropriate identification can park their cars in the first parking row in front of the terminal in the designated spaces for a short time and up to a maximum of 2 hours. Should you require any additional information or assistance, airport`s guest service in the terminal is on site 24 hours a day. Abbotsford Airport does not accept online reservations. This means that you can only pay for your short-term parking at the pay station (debit or credit) after your stay. For pick-ups and drop-offs, Abbotsford Airport offers a short free car park just outside the terminal. So you can say goodbye to your friends and family in peace or welcome them back. Express parking is also ideal for loading and unloading. Short term car park is paved, well lit, gated and open 24 hours. Parking spaces are clearly marked. There is no maximum entrance height and no fence. The walkways to the departure hall are covered.
Outward flight: You drive straight to the airport in Abbotsford. The short-term car park is located directly in front of the terminal. Pull your ticket from the yellow machines at the entrance of the lot. Park your Car in a free parking space.
Return flight: Keep your ticket in a safe place and don't throw that ticket away. It will be used for the exit. Scan your ticket at one of the payment machines, it will show you how much money is owed. After your payment you can exit the lot.
---
---
What is good about short term parking at YXX?

well lit
paved
well signposted
entrance barrier
under video surveillance
open 24 hours
24 hour on-site guest services
pay stations on site
payment debit or credit
regularly police patrols
spontaneous parking possible
walkway is covered
parking spaces for the disabled
no key handover necessary
100 meters to the terminal
no shuttle transfer necessary
baggage cart stations
bicycle parking possible
accommodation operators nearby
coffee machines in the terminal
wc in the terminal
changing room in the terminal
charging stations nearby
demarcation posts and demarcation stones
drop-off area / pick-up area
What is bad about short term parking at YXX?

not covered
not fenced
no online reservation possible
daily parking is expensive
weekly parking is expensive
---
Who else offers Abbotsford airport parking?

---