Abbotsford International Airport (YXX) is located in the Canadian province of British Columbia, 3 kilometers to the US border. The parking spaces are clearly demarcated and you can choose between long-term parking, short-term parking, weekly-parking and daily-parking. The long-term parking lot is located right next to the terminal building and is very popular with travellers. The long term lot and the Abbotsford Airport terminal are just a 2 minutes walk away. The check-in is therefore within walking distance. Due to the attractive conditions, this car park fills up quickly, especially in the summer months and in the high season. Unfortunately, it is not possible to reserve a parking space online on the airport website. Travellers shouldn't worry though, as there's plenty of parking for everyone. In this description we show you what options you have at the long-term parking lot. Here is our car park option number 1.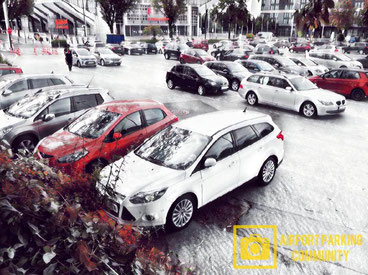 ---
---
Features of the long term lot at YXX:

---
Commercial contact details for up-to-date information, parking prices, inquiries, reservations, address of the parking lot and how to get in touch:


A:

30440 Liberator Avenue, Abbotsford, BC Canada V2T 6H5
C: Contact form on the airport website
---
Direct link to the car park operator here:
---
As Abbotsford Airport does not have its own parking booking system on its website, it is not possible to reserve a parking space in advance. You can only park spontaneously here. YXX Airport also has an overflow parking lot that is open during peak travel periods and in the summer to ensure travellers have ample parking space. The long-term parking lot is paved, partially video-monitored, well-lit, open 24 hours and gated. There is no fence. The car park area is delimited by a thick curb stone. In some places you will find stone barriers, demarcation posts and large tree trunks that ensure that no unauthorized person enters the parking lot. More than 1000 parking spaces are available to you. The entrance to the parking lot is on Liberator Ave and is signposted Daily / Weekly Parking. The paths are marked with directional arrows and the parking bays are clearly marked with white paint. The path for travellers is covered, which is very convenient in bad weather. If you have a lot of luggage, please use the luggage trolley. There are several baggage cart stations in the long-term parking lot. Parking spaces for people with disabilities are marked accordingly with a blue sign. People with disabilities may park in the Hourly lot for free (up to a maximum of 2 hours).
Outward flight: You drive your vehicle to Abbotsford Airport on the day of your departure. Pull your parking-ticket from the yellow machines at the entrance of the lot. Entrance barrier will lift. After parking your vehicle, go to the YXX terminal building. Keep your Parking-ticket in a safe place till the end of your trip.
Return flight: After your return journey to Abbotsford Airport, proceed to the car park. Scan your parking-ticket at one of the payment machines. Payment machine will show you how much money is owed. You have to pay your parking fees and request receipt if needed. After that you can exit the lot.
---
---
What is good about long term parking at YXX?

well lit
paved
well signposted
entrance barrier
partly under video surveillance
open 24 hours
24 hour on-site guest services
pay stations on site
payment debit or credit
regularly police patrols
spontaneous parking possible
walkway is covered
parking spaces for the disabled
no key handover necessary
150 meters to the terminal
no shuttle transfer necessary
baggage cart stations
bicycle parking possible
accommodation operators nearby
coffee machines in the terminal
wc in the terminal
changing room in the terminal
charging stations nearby
demarcation posts and demarcation stones
drop-off area
What is bad about long term parking at YXX?

not covered
not fenced
no online reservation possible
daily parking is expensive
---
Who else offers Abbotsford airport parking?

---